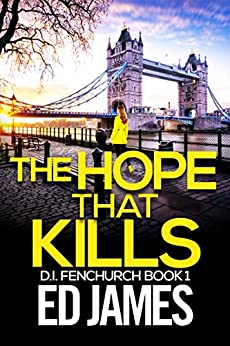 An unputdownable tense and gritty British detective thriller
Meet Simon Fenchurch, Detective Inspector working the Met's East London beat. Honest and funny but damaged, he's working a case that could give him answers to his deepest trauma…
The body of a young woman is found on the streets of East London, in the shadow of the City's gleaming towers. No ID on her, just hard-earned cash. But there is no doubting the ferocity of the attack.
DI Simon Fenchurch takes charge but, as his team tries to identify her and piece together her murder, they're faced with cruel indifference at every turn — nobody cares about yet another dead sex worker.
To Fenchurch, however, the victim could just as easily be Chloe, his daughter, abducted from outside his home and still missing ten years on, whose memory still haunts his days and nights, his burning obsession having killed his marriage.
When a second body is found, Fenchurch must peel back the grimy layers shrouding the London sex trade, confronting his own traumatic past while racing to undo a scheme larger, more complex and more evil than anything he could possibly have imagined.
For fans of Ian Rankin, Mark Billingham, Alex Smith and JD Kirk, The Hope That Kills is the novel that introduced readers to troubled Detective Simon Fenchurch, whose series has set the bestseller charts alight!
About the Book
Readers LOVE this Action-packed Mystery Thriller!
⭐⭐⭐⭐⭐ "Fast-paced and heart-stopping, The Hope That Kills is a chilling look into the dark side of human trafficking and a thriving sex trade industry… The thrilling plot draws you in quickly, and the non-stop action keeps the pace moving swiftly right up to the exciting conclusion….an exceptional start to a new series from an already great author, and recommended fans of Brit crime or gritty police procedurals." –Mystereity Reviews
⭐⭐⭐⭐⭐ "…an action-packed thriller that reads like a train…The Hope That Kills is without a doubt a fast-paced and entertaining read any crime thriller lover will enjoy reading." –It's All About Books
⭐⭐⭐⭐⭐ "This is a great start to a new series...I can't wait to spend more time with DI Simon Fenchurch." – Goodreads Review
⭐⭐⭐⭐⭐ "Oh my giddy aunt…..what a book!… The Hope That Kills is unputdownable…you will find plenty of twists and turns and will have you sucked in from start to finish. I couldn't put it down." –Goodreads Review
⭐⭐⭐⭐⭐ "If you like murder mysteries full of suspense, this may be the book for you." –Goodreads Review
If you love gritty, action-packed crime fiction, Binge the entire DI Fenchurch series now:
THE HOPE THAT KILLS

WORTH KILLING FOR

WHAT DOESN'T KILL YOU

IN FOR THE KILL

KILL WITH KINDNESS

KILL THE MESSENGER

DEAD MAN'S SHOES

A HILL TO DIE ON

THE LAST THING TO DIE (coming soon)
Other Books in "DI Fenchurch Crime Thrillers"
Disclosure of Material Connection: Some of the links in the page above are "affiliate links." This means if you click on the link and purchase the item, I will receive an affiliate commission. I am disclosing this in accordance with the Federal Trade Commission's
16 CFR, Part 255
: "Guides Concerning the Use of Endorsements and Testimonials in Advertising."