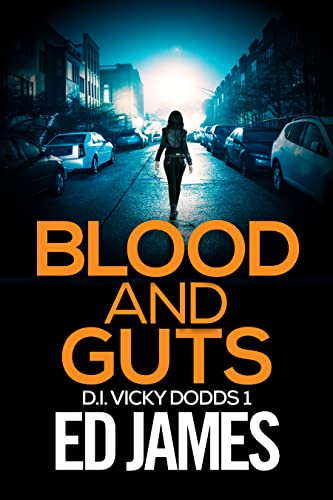 A completely compelling mystery crime thriller full of twists
Christmas Eve. A dead teenager, another missing. One hell of a case.
Meet DS Vicky Dodds in this short novel.
Settling down for a nice Christmas Eve with her daughter and her best friend, a phone call pulls DS Vicky Dodds into work and to a deadly new case.
A teenage girl, her body cooling in a cold, dark supermarket car park. Found next to her friend's car, but she's missing too — has the killer taken her? Or is she the killer?
As the clock ticks down, Vicky digs deep as she investigates Dundee's grim underbelly, and shows real blood and guts as she cuts through the lies of teenagers and a colleague's furious rage in her pursuit of the truth.
BLOOD & GUTS is a short novel introducing the new explosive crime thriller series from bestselling author, Ed James, one of Scottish crime fiction's grittiest writers. Perfect for fans of Ian Rankin, JD Kirk, James Oswald and Stuart MacBride.
Readers praise for BLOOD & GUTS:
⭐⭐⭐⭐⭐ "Raw, real, pacy, suspenseful, and laced with dark humour. I read it in one sitting. It deserved nothing less. Loved it." – Goodreads review
⭐⭐⭐⭐⭐ "Gritty, well-written, dark and believable stuff from Ed James. Kept me awake trying to solve the murder and attacks. Well worth reading!" – Goodreads review
⭐⭐⭐⭐⭐ "James packed an adventure onto these pages, with his usual flair for plot twists and unique characters. The crimes are heartbreaking, the investigation filled with twists and turns." – Amazon review
⭐⭐⭐⭐⭐ "Fast paced and never a dull moment, the story draws you into the mystery/thriller from the very first chapter. The tension is gripping throughout, and the author has an amazing ability to bring the reader into the main character's head." – Amazon review
⭐⭐⭐⭐⭐ "Discovered this book by sheer chance and so glad I did. I loved the story, the characters and the descriptions of my home town. Took me right back there when reading the book. Great storyline, can't wait to read more" – Goodreads review
Binge the whole series now:
BLOOD & GUTS

TOOTH & CLAW

FLESH & BLOOD

SKIN & BONE

GUILT TRIP (coming soon)
About the Book
Review
"Vicky Dodds is a very interesting woman and police officer. She is dogged in her pursuit of the killer of a young girl and another one who is missing. She has to balance her personal life with her career, but she is lucky having a father who was an officer means that her parents understand her hours and commitment. Enjoy reading as Vicky unravels the murder along with her team." – Amazon Reviewer
"Brilliant shortish story. Having read the other Vicky Dodds books I was looking forward to reading this one…and it was a great book. Love Ed James style of writing and the story round Vicky Dodds, her background, where she lives and works . Love that area of Scotland too. Buy the books, read and enjoy!" – Amazon Reviewer
"This action packed version of 'Blood and Guts' is either a short book or a long prequel and from both points of view it is a gripping and compelling crime thriller. It takes place in Dundee over Christmas, starting with an abduction and murder of two teenagers and moving on to spill something more than just blood and guts as the title. There may be insufficient space in the book to allow full development of characters, and the crimes are solved in double quick time, but author Ed James fits in numerous twists and turns and a few red-herrings. It is a rip-roaring roller coaster, and it deserves a 5-star rating." – Amazon Reviewer
Other Books in "DS Vicky Dodds Scottish Crime Thrillers"
Disclosure of Material Connection: Some of the links in the page above are "affiliate links." This means if you click on the link and purchase the item, I will receive an affiliate commission. I am disclosing this in accordance with the Federal Trade Commission's
16 CFR, Part 255
: "Guides Concerning the Use of Endorsements and Testimonials in Advertising."