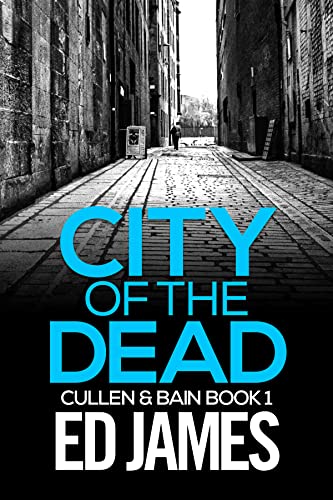 An utterly unputdownable gritty detective mystery thriller
A body in a bin. Two cops at each other's throats.
Acting DI Scott Cullen faces his worst fear. Managing DS Brian Bain, his old boss and notorious loose cannon.
But when Cullen is called through to Glasgow to investigate a murder, Bain is back on his home turf.
A body found in an industrial bin, soaked in bleach and naked except for an adult nappy.
Amid an ongoing investigation into similar crimes, but stopping short of murder, can Cullen rise above Bain's behaviour and solve the crime?
City of the Dead continues the Cullen story after the shocking events of Heroes & Villains.
Praise for much anticipated return of Scott Cullen:
⭐⭐⭐⭐⭐ "You will be captivated from the very beginning of this book" – Amazon review
⭐⭐⭐⭐⭐ "If you are only downloading one book this week, City of the Dead should be it" – Amazon review
⭐⭐⭐⭐⭐ "If you love the Cullen series of books by Ed James, you'll love this. The author is on top form with this" – Amazon review
⭐⭐⭐⭐⭐ "This is truly Ed James' best novel to date" – Amazon review
⭐⭐⭐⭐⭐ "This novella was a great read. The relationship between Cullen and Bain always made me chuckle, but this one had me in stitches" – Amazon review
Follow Acting DI Scott Cullen's story from the beginning:
1 GHOST IN THE MACHINE
2 DEVIL IN THE DETAIL
3 FIRE IN THE BLOOD
4 STAB IN THE DARK
5 COPS AND ROBBERS
6 LIARS AND THIEVES
7 COWBOYS AND INDIANS
8 HEROES AND VILLAINS
And continue it in the Cullen & Bain series:
1 CITY OF THE DEAD
2 WORLD'S END
3 HELL'S KITCHEN
4 GORE GLEN
5 DEAD IN THE WATER
6 THE LAST DROP
Order Now!
Disclosure of Material Connection: Some of the links in the page above are "affiliate links." This means if you click on the link and purchase the item, I will receive an affiliate commission. I am disclosing this in accordance with the Federal Trade Commission's
16 CFR, Part 255
: "Guides Concerning the Use of Endorsements and Testimonials in Advertising."