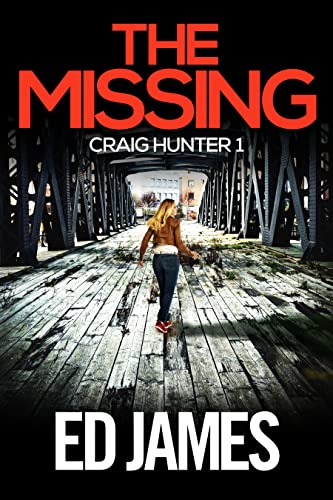 An unputdownable gripping Scottish Detective Mystery
A missing schoolgirl. A tormented cop. A family mystery.
Meet PC Craig Hunter of Edinburgh's Local Policing Unit. Ex-Army. Ex-CID. Back in uniform.
A new series from the bestselling author of the Detective Scott Cullen Scottish crime novels.
A straightforward domestic call out twists out of control when 16-year-old schoolgirl Stephanie Ferguson alleges her stepfather, Doug Ferguson, has been abusing her. Hunter is soon working with DS Chantal Jain of Police Scotland's Sexual Offences Unit to kick off the prosecution. But before a full statement can be taken, Stephanie disappears from hospital.
Now, Hunter must hunt the girl down before anyone else can. Where has Stephanie gone? Did she run? Or did someone take her? Will he get to the truth before it gets beaten into lies? Or before Stephanie is silenced for good…? And why does this case keep throwing up old enemies from Hunter's past?
MISSING is a fast-paced police procedural, full of action and suspense that will grip you until its breathless conclusion.
Praise for Missing:
⭐⭐⭐⭐⭐ "This will definitely be high on my favorite books of the year list, the finely woven plot unwound bit by bit, with lots of plot twists and red herrings that kept me guessing as the book raced towards the shocking finale." – Goodreads review
⭐⭐⭐⭐⭐ "Couldn't put it down. Tight prose and fast moving action, a difficult subject yet dealt with in a manner that had me gripped from the first chapter. For fans, this is set to be a fantastic new series yet it also stands alone for those who have yet to discover Cullen...." – Goodreads review
⭐⭐⭐⭐⭐ "Well. Ed James has done it again! The start of another series that looks to be a sure fire winner. Grittier than Scott Cullen, Craig Hunter is just as interesting and believable" – Goodreads review
⭐⭐⭐⭐⭐ "Yet again well written with plenty of humour and introducing new PC Craig Hunter and showing another side to Scott Cullen this is definitely worth reading!" – Goodreads review
⭐⭐⭐⭐⭐ "Wow, what a cracker of a book" – Amazon review
If you loved the first installment of Craig Hunter, continue the series:
The Missing

The Hunted

The Black Isle
About the Book
Review
"I have read all the Scott Cullen books, a great series. In MISSING, I was glad to see my favorites, Scott and Sharon, make an appearance. Missing is a great mystery/police procedural. The characters who inhabit Mr. James' books are well developed and they come alive. Oh, how I would love to be in the same room with those Scottish police officers! I also read SNARED. The first chapter was hard for me to read because I am animal lover, have several rescued animals, and also a beloved Pug. It was well worth reading and it was hard to hate the "bad guys" even when you knew they were in the wrong. I'm looking forward to reading the rest of his author's books." – Amazon Reviewer
"I have read all the Scott Cullen books and have thoroughly enjoyed them (5stars). While waiting for the next to be written I decided to try this book. I half expected it to be a few steps down from the Cullen series. Boy, was I wrong– l really liked this book, so much so that part way through it I thought if this book is this good the Fenchurch series might also be good. So I bought them." – Amazon Reviewer
"Wow, what a cracker of a book. The beginning slightly confused me and I had to reread it a few times, but got there. Wasn't sure whether I was going to warm to Craig Hunter but he grew on me. The pace was good, good story line with enough loose ends for future development amongst the characters. There as a lot of detail, may be it wasn't all needed but it certainly put you in the picture. Good to pick up from previous Cullen books (which I loved) and also see development of some of these old characters in the intervening years. I am thoroughly looking forward to the next Hunter book and the new Cullen in the New Year. Definitely keep it up." – Amazon Reviewer
Disclosure of Material Connection: Some of the links in the page above are "affiliate links." This means if you click on the link and purchase the item, I will receive an affiliate commission. I am disclosing this in accordance with the Federal Trade Commission's
16 CFR, Part 255
: "Guides Concerning the Use of Endorsements and Testimonials in Advertising."