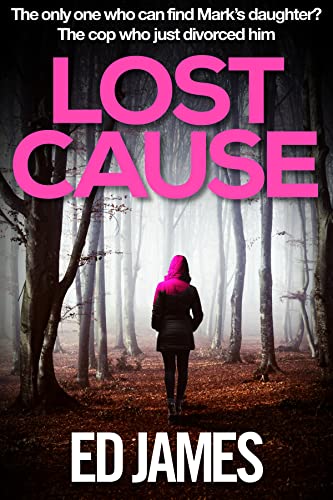 A gripping psychological thriller set in the Scottish highlands
The only one who can find Mark's daughter? The cop who just divorced him
Mark Campbell is in deep trouble. His latest book is five years late and his recent divorce has cleaned him out. Worse, his debts with Vic Hebden aren't exactly the kind you consolidate into one easy payment. And he's missed three.
But Mark has a plan — finish his novel, then pay Hebden off with the advance. His student daughter, Kay, is spending her summer holiday researching locations in the far north of Scotland, ahead of a father-daughter holiday.
Desperate to add her research to his book, the hotel calls — Kay has run off, leaving a big bill, her phone and a copy of Mark's last book, BREAK THE CHAIN.
There's only one person to turn to — his ex, Olivia. Kay's stepmother. A Glasgow cop still angry at their recent divorce.
As they hunt the Scottish Highlands for his daughter, Mark starts to realise Kay's disappearance could have something to do with BREAK THE CHAIN, the novel where his research exposed a cult founder's real life sexual abuse.
Has Kay run away from Mark? Does Hebden have her? Or could Kay have succumbed to the clutches of someone from the cult? And can Mark and Olivia save her in time?
LOST CAUSE is a standalone psychological thriller from the bestselling author of the Cullen, Fenchurch and Dodds series, perfect for fans of Mark Edwards, Linwood Barclay and Harlan Coben.
"A storming novel, so packed full of tension that I read it in a day."
— Mark Edwards, bestselling author of The Magpies, Follow You Home and The Hollows.
"Steeped in Scottish history & buried secrets, an unputdownable rollercoaster of a read."
— Steph Broadribb, bestselling author of Death in the Sunshine.
"A tense, pacy delight of a thriller that unfolds in ways you'd never expect — I loved it"
— Susi Holliday, bestselling author of The Last Resort and The Hike.
Order Now!
About the Book
Review
"Lost Cause is another fun journey with Ed James. It had an ending that I did not see coming, which is always much appreciated. Bonus points for making me learn about the Highland Clearances. There's even a vampire (maybe). Like the rest of his books, you should buy this. Magic." – Amazon reviewer

"This had been a superb book to read loads of places visited The characters are wonderful it's been enthralling to encounter such determination in these characters. There's been lots of twists and turns within . It sure keeps your interest too. I honestly couldn't put it down once I started reading this book. Well written Ed thanks for allowing me the pleasure of reading it. Honestly folks if you're wanting a Fantastic Story to read then you must add this to your collection you really can't go wrong. I hope everyone that reads this book enjoys as much as I have done.." – Amazon Reviewer
"This one is great! An ending that totally surprised me. Lots of historical references that sent me to google several times. Great characters." – Amazon Reviewer
"I love Ed James writing and this new book is no exception!
Mark's had a troubled past that he doesn't talk about, a chaotic present that he can't put in order and so is in danger of not having a future!
He is an author who has enlisted the help of his daughter Kay to research about the Highland clearings for his new book. He desperately needs to write and present his latest update in order to receive an advance that will pay off his debts.
When his daughter goes missing he has no choice but turn to his ex wife (his daughter's stepmother) and her colleague, both police officers to help in his search for Kay before Mark runs out of time to pay the loan shark.
Mark is on a journey not just to find Kay but also himself.
Ed's descriptive narrative takes you up to the Highlands, steeped in dark tales of the clearings. Who is Mark's enemy and what do they have to lose? Lots of twists and turns. A great read." – Amazon Reviewer

Disclosure of Material Connection: Some of the links in the page above are "affiliate links." This means if you click on the link and purchase the item, I will receive an affiliate commission. I am disclosing this in accordance with the Federal Trade Commission's
16 CFR, Part 255
: "Guides Concerning the Use of Endorsements and Testimonials in Advertising."