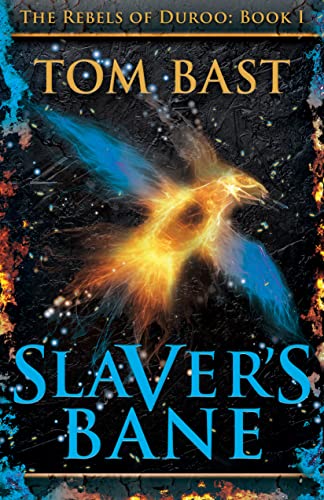 A Magical Epic Fantasy Battle between Good and Evil
Once upon a time...
Everyone lived in peace—humans, elves, orcs, goblins, giants, trolls, and even the fey.
Then the royals invented slave magic.
And with it came chaos, hate, and destruction. The peace of yore is now the stuff of legend. Surviving the orc battlefields is all the hope there is. Or so the royals believe.
When teenage all-breed orphan Robin is inadvertently gifted the magic of a powerful fairy mage, freedom becomes a distant possibility. Spurred by hope and aided by a ragtag rebel group, Robin sets off on a perilous quest to free the people of his suffering lands... Death trails Robin at every turn, hunted by the evil royal madge and his mindless slave soldiers.
He has two choices: victory or death. For Robin will never be a slave again.
A perfect read for fans of J.R.R Tolkien, Sarah J. Maas, K.F. Breene, or Philip Pullman, this is a dark coming-of-age epic fantasy novel.
About the Book
Fantasy fans are raving about this thrilling epic fantasy debut!
⭐⭐⭐⭐⭐ "Slaver's Bane by Tom Bast is a magnificent tale of a world filled with royals, slaves, slave potions, creatures of all races, and magic. It is an unforgiving world. Harsh to those that are not wealthy…Slaver's Bane had every element of fantasy I could hope for in a powerfully moving story…an excellent choice." –Netgalley Review
⭐⭐⭐⭐⭐ "Tom Bast's world-building is wonderous, flowing, and transported me right into the tale…[his] characters are strong, passionate for their cause… When the Royals decide to use magic to make and keep slaves enslaved, they had no idea of what was to come of the spell, let alone people who would stand up and fight…" –Netgalley Review
⭐⭐⭐⭐⭐ "This is a tale of a half-breed boy that is looking for freedom and purpose in a world full of creatures that exist in disharmony. Robin is an orphan destined for a life of servitude… The imagery of this world and its creatures is resplendent… I loved this story and anxiously await its next installment! –Netgalley Reviewer
⭐⭐⭐⭐⭐ "The story… will have you turning pages while you read the heartfelt moments of a halfbreed orphan as he tries to plan his escape. Always kept hungry and under guard, he decides to risk his life to steal a loaf of bread for himself and a dear friend. What he finds, however, is much more important,… A must-read for the magical adventurers at heart!" –Goodreads Review
⭐⭐⭐⭐⭐ "The characters, plot, setting, and writing were so amazing. This writer knows how to paint a vivid picture with a pen. I can see this book featured as book of the month on multiple book club and book box sites! It is going to be a number one bestseller for sure. A fantastic read for fans of YA fantasy. Get your copy now and enjoy!" –Goodreads Review
Disclosure of Material Connection: Some of the links in the page above are "affiliate links." This means if you click on the link and purchase the item, I will receive an affiliate commission. I am disclosing this in accordance with the Federal Trade Commission's
16 CFR, Part 255
: "Guides Concerning the Use of Endorsements and Testimonials in Advertising."