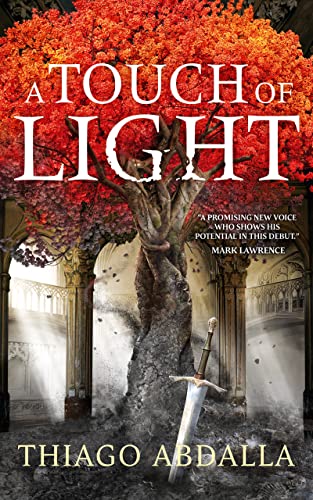 A Dark Epic Fantasy Novel
"Abdalla's a promising new voice who shows his potential in this debut." —Mark Lawrence
How far would you go to resurrect someone you love? Would you change who you are to show you belong?
The world of Avarin is tearing itself apart. The Domain worships life, its rulers lead eternal lives and death is a shame that must not be mourned. For the clans to the south, however, death is all that keeps the Earth alive.
But old enemies are rising.
A madness spreads throughout the Domain, and Lynn, a rogue griffin rider in hiding, might be the only one who knows how to fight it, while Adrian, a Domain prince seeking to bring his dead loved ones to worthiness, leads the Domain armies against the madmen.
The clans suffer a madness of their own. As the land itself begins to wither away, Nasha, a cursed hunter and lifelong outcast, desperately fights for belonging in the Ronar, while her clan seeks to heal the land.
Old beliefs will be challenged as the people of Avarin fight to save it… before death comes for them all.
A sweeping epic fantasy saga where religion and politics are one, magic brings terror into the hearts of men, and a looming blight threatens to tear everything down.
About the Book
What other readers are saying..
"Abdalla's a promising new voice who shows his potential in this debut."
-Mark Lawrence, International Bestselling Author
"Vivid battles and heartbreaking betrayals that will keep readers glued to the page." -Booklife Reviews, Editor's Pick 
". . .battle scenes felt reminiscent of a John Gwynne battle sequence." -The Library of Allenxandria
". . .this is a rare book that can actually justifiably be compared to A Song of Ice and Fire." –Spells & Spaceships Blog
"An amazing debut novel that truly captures your attention from the first page." -Neil Williams, FanFiAddict
"Easily goes into my read this now recommendation." -The Swordsmith Blog
"The start to what promises to be a fantastic series." -Beneath a thousand skies blog
"This book is now one of my favorites." –Marie Sinadjan
"An emotional story or war and faith, love and loss." -Seanchalant, FanFiAddict
Disclosure of Material Connection: Some of the links in the page above are "affiliate links." This means if you click on the link and purchase the item, I will receive an affiliate commission. I am disclosing this in accordance with the Federal Trade Commission's
16 CFR, Part 255
: "Guides Concerning the Use of Endorsements and Testimonials in Advertising."