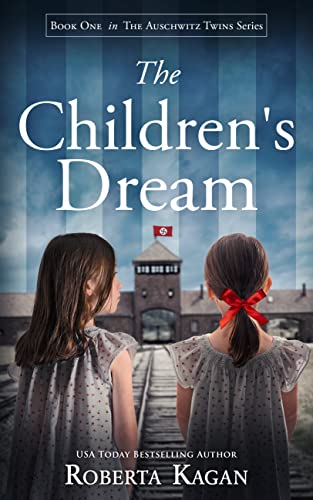 A heart-breaking, gripping WW2 novel, based on a true story
Sometimes Dreams Come True...
And so do nightmares.
When Naomi's daughter, Perle, starts to have nightmares about smokestacks and creepy doctors, Naomi is struck with terror - the terror of a mother who fears her daughter is in mortal danger. Naomi believes dreams are glimpses into the future. She, too, has had dreams of foreign soldiers with a strange flag invading her tiny village. She knows in her heart that evil is brewing.
Real-life has already been a living hell for Noami. She must navigate the treacherous path of her unhappy arranged marriage with Hershel while keeping a scandalous love affair secret. And now something is coming. Her dreams - the dreams Hershel laughs at - tell her so. And the thing that is coming will make the hell she has been living seem ordinary and almost peaceful.
The noose is tightening, and not even her nightmares can prepare Naomi, or her sleepy little village, from the sweeping scythe of the Nazi death machine.
Readers are captured by The Children's Dream:
⭐⭐⭐⭐⭐ "An incredible blend of history, family drama, romance and the mystical." – Goodreads Reviewer
⭐⭐⭐⭐⭐ "A story that captures you on the very first page!" – Goodreads Reviewer
⭐⭐⭐⭐⭐ "Once again Roberta has written a brilliant book! The characters become your family!" – Goodreads Reviewer
⭐⭐⭐⭐⭐ "Excellent read." – Goodreads Reviewer
⭐⭐⭐⭐⭐ "What an intriguing book!... Intense and unsettling. A real page turner and a must must read!" – Goodreads Reviewer
About the Book
Review
"Imagine being awakened at night by explosions and finding that your neighborhood is under attack. This is how this book begins.
Follow the lives of people in this book and see what changes, if any, they make in their lives before the war, World War II, begins. I enjoyed this book and hope you enjoy it also." – Amazon Reviewer

"How could I put this book down? So many stories within a story, each one had me waiting to find out what was going to happen. Love, obedience and the tragic consequences kept me reading." – Amazon Reviewer
"Excellent read. Can't wait for the next in the series to come out. Her writing style transform you into the story it's amazing." – Amazon Reviewer
Other Books in "The Auschwitz Twins Series"
Disclosure of Material Connection: Some of the links in the page above are "affiliate links." This means if you click on the link and purchase the item, I will receive an affiliate commission. I am disclosing this in accordance with the Federal Trade Commission's
16 CFR, Part 255
: "Guides Concerning the Use of Endorsements and Testimonials in Advertising."