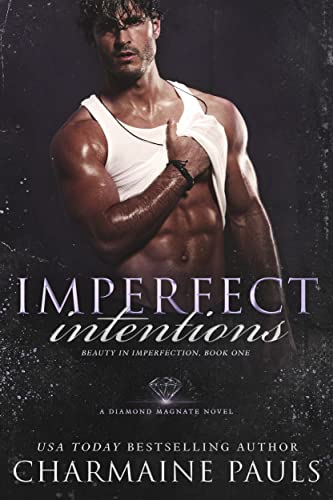 A Diamond Magnate Novel
When Leon tries to force Violet into marriage, it's war for both of them. The battle is hot and dirty, and no one walks away without scars.
A DARK ROMANCE
I never dreamed of getting married.
I dreamed about freedom.
When my stepfather promised Leon Hart a partnership in his clandestine software company, he offered me as part of the package deal. It's a win-win situation for both men. My stepfather gets rid of his damaged stepdaughter, and Leon becomes second-in-command of the biggest underground IT operation in the country. I'll do what I must to escape my fate.
Even if it means turning my powerful and dangerous betrothed into my worst enemy.
Note: Violet and Leon's story concludes in Imperfect Affections (Book 2).
Beauty in Imperfection is part of the Diamond Magnate Collection. You don't have to read the other books to follow this story. Other books in the collection include:
Beauty in the Broken (A standalone novel)
Diamonds are Forever (A trilogy)
Beauty in the Stolen (A trilogy)
About the Book
Review
"Charmaine Pauls delivers yet another enticing entry into the Diamond Magnate world with this start to a duet featuring enigmatic middle brother Leon, resident tech genius and now our anti-hero. Imperfect Intentions is a delectable beginning to a fiery and complicated romance duet that has lots of dark promise." –
The Romantic Rush Blog
"This book is everything!" – Jamillah Smith, Goodreads
"Gah! That ending! The first book from a Charmaine Pauls series is always a love/hate relationship for me. I love them so much that I hate those darn cliffhanger endings. I always want to read the 2nd book immediately, which says a lot about this author's books." – Mindy Lou's Book Review
"I devoured this book in one sitting!" – Shaylee DeCaire, Goodreads
"The start of Leon Hart and Violet's story was spectacular and so much better than I could ever have imagined." – Kelly Reads Books
"Charmaine Pauls crafts a complex, sultry, thoughtful dark romance where the heroine comes from tragedy and the hero is alpha and domineering all the way." – Buffyanna, Goodreads
"Intoxicating, steamy, and addicting." – Kiss Me Books
"As usual Charmaine pulls no stops in chasing thrills and weaving espionage webs to keep the excitement and dread at the peak level throughout. It always makes for a delightful experience to read Charmaine's romance thrillers." – Book Bistro Blog
"A deliciously tantalising story that kept me turning the pages until I devoured the entire book." – Nicolette, Goodreads
"A real page turner." – Jo, Goodreads
"Wow. This book was fabulous and even better since it broke my reading slump. I rarely give 5* but I enjoyed it so much I'm giving that extra half a star." – Deborah, Goodreads
"A Jewel in the Diamond World." – Indira Singh, Goodreads
"I love this book!" – Bookaddict
"I thought Ian's story was perfection and full of twists and turns but Leon's story is full of love, life and the chance of freedom but to get there omg it takes you on a whole whirlwind of emotions, chances and deception. I literally cannot wait to read the next book." – Emma Casley, Goodreads
"Amazing, engaging, and mesmerizing." – Debbie Ballard, Goodreads
"The chemistry between Leon and Violet is all consuming, passionate, and explosive." – Debbie Ballard, Goodreads
"Wow! What a ride!" – Mary S., Goodreads
Other Books in "Beauty in Imperfection"
Disclosure of Material Connection: Some of the links in the page above are "affiliate links." This means if you click on the link and purchase the item, I will receive an affiliate commission. I am disclosing this in accordance with the Federal Trade Commission's
16 CFR, Part 255
: "Guides Concerning the Use of Endorsements and Testimonials in Advertising."