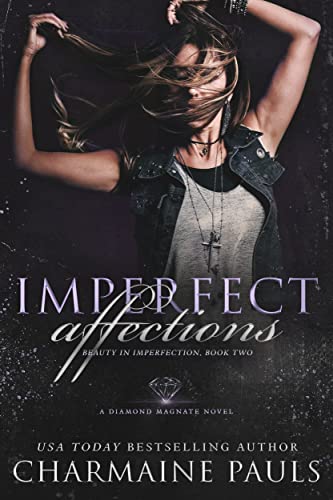 A Diamond Magnate Novel
When Leon tries to force Violet into marriage, it's war for both of them. The battle is hot and dirty, and no one walks away without scars.
A DARK ROMANCE
Love is for people who don't mind getting hurt. I vowed to never fall into that trap. I entered into war with my beautiful, corrupted, and dangerous husband. He warned me he always won. He told me I'd lose, but I didn't want to believe him because there was too much at stake. What he didn't tell me was that the battlefield is messy and bloody, and that no one walks away without scars.
Note: Imperfect Affections is the second book in the Beauty in Imperfection duology and concludes Violet and Leon's story.
Beauty in Imperfection is part of the Diamond Magnate Collection. You don't have to read the other books to follow this story. Other books in the collection include:
Beauty in the Broken (A standalone novel)
Diamonds are Forever (A trilogy)
Beauty in the Stolen (A trilogy)
About the Book
Review
"Oh my possessive, domineering alpha loving heart! Imperfect Attractions amplifies the Hart darkness in our tech genius Leon. What a deliciously addictive, captivating, seductively intense finale to the Beauty in Imperfections Duet. I was mesmerized by the explosive energy between these two, consumed from start to finish. Charmaine Pauls delivers another pyshocolicaly complicated, suspense filled, SUPER sexy dark romance from the Diamond Magnate world. I can't get enough of them!" – The Romantic Rush Blog
"Loved the book from first page to the epilogue." – Book Bistro Blog
"Oh goodness! I loved Leon and Violet. They have such amazing chemistry that is felt throughout the story. I love their personalities that meshed so well together. The story is extremely well written and developed. It has so much drama, suspense, action, and some sexy hot scenes throughout it. The story kept me on the edge of my seat with anticipation. I couldn't put it down. It was great to see some of the characters from previous books. They added that extra element to the story. This is absolutely a must read and definitely doesn't disappoint." – Darcy Smith, Goodreads
"What an amazing conclusion to Leon and Violet story, it did not come without difficulties, heartbreaks and misunderstandings. But at the end this two found their love in all it's beautiful imperfections. Love their story, love the little peeks we had of the Hart's family it just was a perfect end to them all." – Mary S., Goodreads
"Heartbreaking, action-packed, dirty, and incredibly erotic." – Kiss Me Books
Other Books in "Beauty in Imperfection"
Disclosure of Material Connection: Some of the links in the page above are "affiliate links." This means if you click on the link and purchase the item, I will receive an affiliate commission. I am disclosing this in accordance with the Federal Trade Commission's
16 CFR, Part 255
: "Guides Concerning the Use of Endorsements and Testimonials in Advertising."