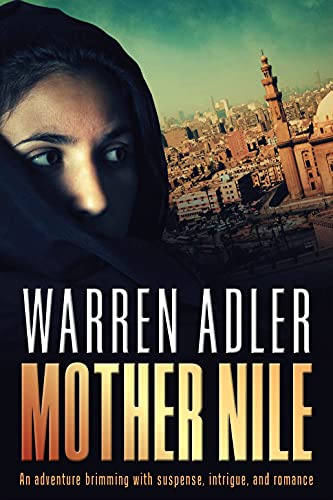 A Gritty and Breathtaking Adventure in Egypt
A dazzling triumph from the bestselling author of 'The War of the Roses' - a sweeping and ambitious novel spanning across two eras and the city at the center of it all.
A mother's deathbed confession.
A son's life spins out of control.
And now Osiris has one mission; to find his long lost sister, Isis.
Osiris embarks upon a journey to his ancestral home in Egypt. The winding streets of the City of the Dead conceal many dangers. His mother's enemies are everywhere and will not hesitate to kill to keep their secrets hidden. Cryptic clues left by his mother slowly begin to unravel, and with it, a trail of cold bodies in Osiris' wake.
But he is not the only one searching for Isis.
And this predator is not looking for a happy reunion but something much more sinister. This bitter and incredibly deadly enemy is hot on Osiris' scent; he's hunter that triggers a heart-stopping chase with utterly fatal consequences.
Follow Osiris in this edge-of-your-seat roller-coaster ride of daring maneuvers and nerve-wracking action as they try to find Isis before they both end up in just another Egyptian tomb.
About the Book
Readers thrilled about this edge of your seat novel:
"Mother Nile is an utterly engrossing story." – Goodreads Reviewer ⭐⭐⭐⭐⭐
"Mr. Adler's writing is remarkable; his use of language erudite and energized." – Goodreads Reviewer ⭐⭐⭐⭐⭐
"Mr.Adler is a masterful storyteller…" – Goodreads Reviewer ⭐⭐⭐⭐⭐
"This story is so skillfully drawn to pull us in from the start and keep us captive till the very end." – Goodreads Reviewer ⭐⭐⭐⭐⭐
"What a lovely gift inside a nitty-gritty novel that cannot be easily classified.. It is as tender as as it is cruel." – Goodreads Reviewer ⭐⭐⭐⭐⭐
"The story line itself makes the book worthwhile, but the detailed look at life in the recent past makes the book exceptional." – Goodreads Reviewer ⭐⭐⭐⭐⭐
Disclosure of Material Connection: Some of the links in the page above are "affiliate links." This means if you click on the link and purchase the item, I will receive an affiliate commission. I am disclosing this in accordance with the Federal Trade Commission's
16 CFR, Part 255
: "Guides Concerning the Use of Endorsements and Testimonials in Advertising."