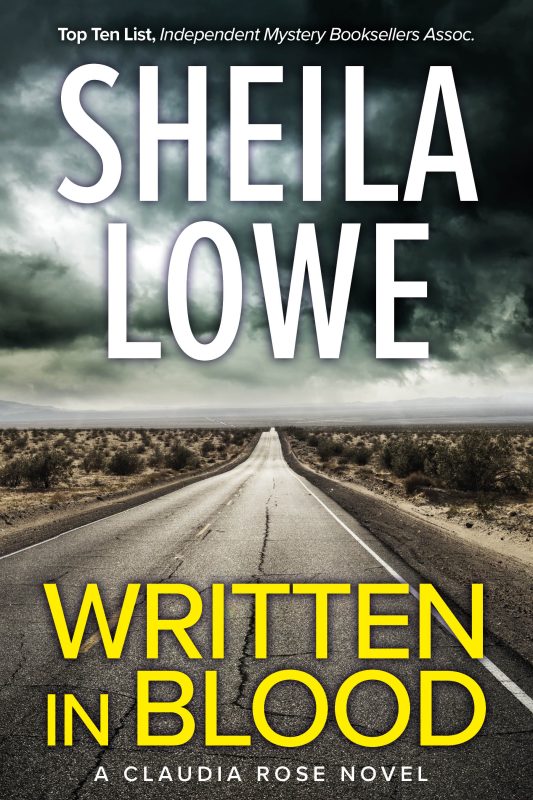 An absolutely enthralling suspense mystery filled with twists and turns (Claudia Rose Forensic Handwriting Mysteries Book 2)
Trophy wife, Paige Sorensen is accused of forgery by her angry adult stepchildren. Their dead father had left his entire estate to Paige in his will, and they will do anything to keep the inheritance out of her hands.
Paige turns to none other than renowned handwriting expert Claudia Rose.
Intrigued, Claudia is sucked into the drama and soon becomes fast friends with Paige. When Paige and suicidal fourteen-year-old Annabelle suddenly disappear, Claudia learns that reading between the lines can mean the difference between life and death.
Soon, a body turns up, and all hell breaks loose.
Claudia has committed the cardinal sin of getting personally involved.
There will be hell to pay.
Written in Blood is the second book in Sheila Lowe's unique and absolutely gripping forensic mystery thriller series. Binge read them all!
Readers are thrilled by Written in Blood:
⭐⭐⭐⭐⭐ "I feel breathless after reading this addition to the forensic handwriting series…this was a thrill ride through the Las Vegas desert!"– Goodreads Reviewer
⭐⭐⭐⭐⭐ "Fasten your seat belts and get ready for a thrilling roller-coaster ride in this adventure!" – Goodreads Reviewer
⭐⭐⭐⭐⭐ " Murder, kidnapping, and lies follow her discoveries requiring her ingenuity to keep her and those she cares about alive. A page-turning great read!" – Goodreads Reviewer
⭐⭐⭐⭐⭐ "Now that I found this book I am hooked! The story is fascinating and exciting... It's unique to anything I have read so far and that's not all this book should boast about. It's fast-paced and never has a dull moment." – Goodreads Reviewer
About the Book
Review
A Top-Ten pick
-Independent Mystery Booksellers Association
"Couldn't put it down-well, until my eyes drooped last night. Picked it right back up this morning and didn't start work until I'd finished."
-PopSyndicate.com
"A fascinating and complex murder mystery that keeps readers involved and guessing till the exciting climax."
-American Chronicle
"Readers will relish Sheila Lowe's fine tale."
-The Merry Genre Go Round Reviews
"Sheila Lowe's mysteries just keep getting better. Her writing is crisp, and she deftly incorporates interesting information about handwriting analysis along the way. Her characters are rich and fully developed and her plots sizzle."
-Armchair Interviews
"If you enjoy forensics, then give these Forensic Handwriting Mysteries a try. It's a different slant on the field wrapped in some pretty believable story lines."
-Gumshoe
Other Books in "Claudia Rose Forensic Handwriting Mysteries"
Disclosure of Material Connection: Some of the links in the page above are "affiliate links." This means if you click on the link and purchase the item, I will receive an affiliate commission. I am disclosing this in accordance with the Federal Trade Commission's
16 CFR, Part 255
: "Guides Concerning the Use of Endorsements and Testimonials in Advertising."