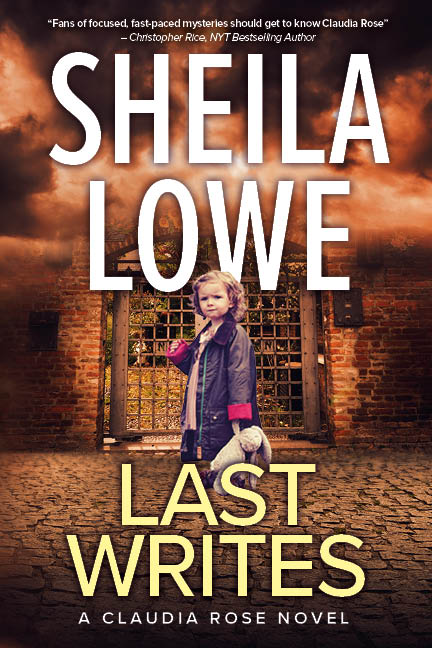 She will stop at nothing to get her little girl back
Handwriting expert Claudia Rose's best friend Kelly hasn't seen her sister in years. A member of the Temple of Brighter Light, Erin lives in an isolated compound with her husband and daughter Kylie, separate from the rest of society. But everything changes when Erin makes a tearful confession - her husband has snatched Kylie in the night and vanished.
They might have their problems, but Erin is still Kelly's sister.
She will stop at nothing to get her little girl back.
Undercover at a Temple rally, Kelly and Claudia are drawn to the group's compelling leader. Brother Stedman is charismatic, sociable, and surprisingly down-to-earth. When he invites them to visit the compound, it seems like the perfect opportunity to investigate.
But though the Temple members appear friendly, outsider questions are not welcome. Just before she disappeared, Kylie was selected to join Jephthah's Daughters, a mysterious program the members refuse to discuss. And when the two friends are separated for a few hours, Kelly comes back acting strangely…
…If Claudia didn't know better, she would swear she was hypnotized.
Alone and with nowhere to turn, Claudia must use all her wits if she hopes to rescue her friend's niece.
But as the danger around her creeps ever closer, she just might be the one in need of saving.
Filled with drama, intrigue, and endless twists and turns, "Last Writes" will keep you on the edge of your seat until the very last page!
Readers are loving "Last Writes!"
⭐⭐⭐⭐⭐"...Things get really twisty and gripping. I love this author's writing and the way she makes me feel like a fly on the wall of the story's reality. Another excellent read!" -- Goodreads Reviewer
⭐⭐⭐⭐⭐ "Claudia has lots of talent and a knack for finding herself in the oddest and sometimes scary situations. I can't wait to read the next book and see what her next job might take her" -- Goodreads Reviewer
⭐⭐⭐⭐⭐"The imagery in this book was so well done. I could envision so many details. I love the science behind the forensic handwriting. This story kept me on my toes with all of its twists and turns" -- Goodreads Reviewer
About the Book
A frantic search begins when Claudia's friend Kelly learns that her three-year-old niece is missing.
Kelly's estranged half-sister Erin and her husband live quiet lives as members of a fanatical religious cult in an isolated Southern California location. But now, Erin's husband and their child have disappeared, leaving behind a cryptic note with a terrifying message.
The clock is already ticking when handwriting expert Claudia becomes one of the few outsiders to be invited into the Temple of Brighter Light compound. There, she must hurry to uncover the truth before the prophecy of a secret ancient parchment can be fulfilled and a child's life written off for good.
Other Books in "Claudia Rose Forensic Handwriting Mysteries"
Disclosure of Material Connection: Some of the links in the page above are "affiliate links." This means if you click on the link and purchase the item, I will receive an affiliate commission. I am disclosing this in accordance with the Federal Trade Commission's
16 CFR, Part 255
: "Guides Concerning the Use of Endorsements and Testimonials in Advertising."