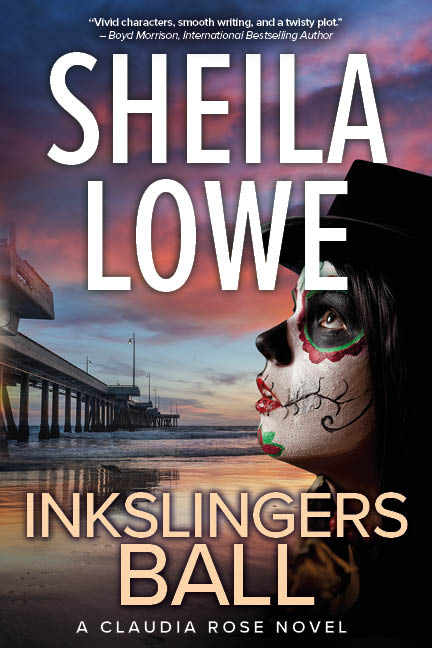 A Fast-Paced Hair-Raising Forensic Handwriting Mystery
A Fast-Paced Hair-Raising Forensic Handwriting Mystery
A middle-of-the-night phone call is never good news.
Homicide detective Joel Jovanic wakes up to a call about a body found in a trash dumpster. What seems like a routine investigation turns deadly when they learn the victim is connected to his partner Claudia Rose and her ward, Annabelle.
Handwriting expert Claudia feels very protective of young Annabelle. The teen may be troubled, but she is practically family. Headstrong and independent, Annabelle will stop at nothing to get what she wants, including a sugar skull tattoo that she is still too young for.
Venice Beach is full of shady characters who will happily oblige, and tattoo artist Viper has no problem with less-than-legal inking.
But Viper's dark side goes far beyond "servicing" underage customers. When the same sugar skull tattoo is linked to a series of crimes, including a firebombing and a journalist's disappearance, Annabelle is suddenly in a world of trouble.
Claudia and Joel once again join forces to uncover what links the brutal crimes—until Claudia's desperate need to protect Annabelle comes between them.
Readers are raving about "Inkslingers Ball!"
⭐⭐⭐⭐⭐ "A very complex and compelling story that is much too close to reality in many ways... The plot moves along quickly with a lot of suspense, twists, and red herrings with characters are incredibly interesting." -- Goodreads Reviewer
⭐⭐⭐⭐⭐ "This is the first novel I've read by Ms. Lowe, and I have to say it was one exhilarating experience...Just when the reader thinks it's going in one direction, Lowe takes you by complete surprise down another path" -- Goodreads Reviewer
⭐⭐⭐⭐⭐ "Inkslingers Ball was a very captivating mystery. It kept my full attention all the way through to the end" -- Goodreads Reviewer
⭐⭐⭐⭐⭐ "This was a great mystery, terrific writing, well-realized characters, red-herrings galore and a climax that kept me reading long past when I should have been asleep!" -- Goodreads Reviewer
⭐⭐⭐⭐⭐ "Sheila Lowe is a master of the police procedural genre...This is a book not to be missed by mystery lovers by one of the fastest rising stars in the genre. A thrilling read." -- Goodreads Reviewer
About the Book
Review
"Sheila Lowe's writing is fast-paced and suspenseful and made believable by her own background as a forensic handwriting expert. Yet another page-turner for Claudia Rose fans."
-Rick Reed, Author of the 
Jack Murphy Crime
 Series"Lowe expertly delivers a solid criminal investigation while guiding her readers into a unique culture where tattooing and the murder of a young girl come together on the autopsy table. Hit the lights and siren because this is one fast ride from beginning to end."
-Lee Lofland, Author of "Police Procedure and Investigation" and founder and director of the Writers' Police Academy"
Inkslingers Ball
 is the perfect novel for an afternoon by the pool. With vivid characters, smooth writing, and a twisty plot, Sheila Lowe has crafted a mystery that will keep you guessing to the very end."
-Boyd Morrison, International bestselling author"Sheila Lowe's 
Inkslingers Ball
 is a reminder of every parent's nightmare. Lowe drags us into the underworld of street mobsters who destroy reputable businesses through shakedowns, torching, and murder, luring naïve youth into their employ. A deadly dance orchestrated by the lowest forms of life."
-Sandra Brannan, Author of the acclaimed 
Liv Bergen Mysteries
Other Books in "Claudia Rose Forensic Handwriting Mysteries"
Disclosure of Material Connection: Some of the links in the page above are "affiliate links." This means if you click on the link and purchase the item, I will receive an affiliate commission. I am disclosing this in accordance with the Federal Trade Commission's
16 CFR, Part 255
: "Guides Concerning the Use of Endorsements and Testimonials in Advertising."