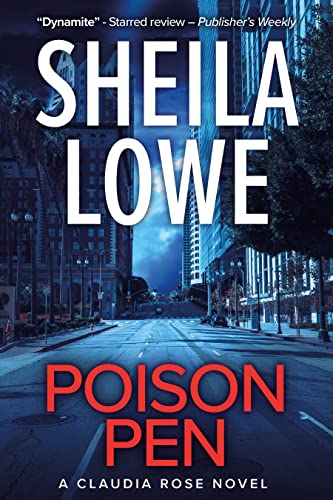 A Claudia Rose Novel (Forensic Handwriting Mysteries Book 1)
"IT WAS FUN WHILE IT LASTED."
Those were the words on the suicide note found near Lindsey Alexander's body. The police say it is an apparent suicide. Case closed.
Or is it?
Ivan, Lindsey's partner, disagrees. He hires forensic handwriting expert Claudia Rose to poke around.
Motives for murder begin to pile up. Lindsey had made powerful enemies. Soon, a brutal attempt on Ivan's life confirms Claudia's fears.
A desperate enemy is lurking.
There is a massive target on Claudia's back.
Claudia must join forces with intense LAPD detective Joel Jovanic if she is to survive. They must stop the killer before the killer destroys her.
About the Book
Review
Sheila Lowe "wins readers over with her well-developed heroine and the wealth of fascinating detail" – Booklist
"The well-paced plot develops from uneasy suspicions to tightly wound action." – Front Street
A "fast-paced, crisp…novel that penetrates the world of celebrity." – Armchair Interviews
Disclosure of Material Connection: Some of the links in the page above are "affiliate links." This means if you click on the link and purchase the item, I will receive an affiliate commission. I am disclosing this in accordance with the Federal Trade Commission's
16 CFR, Part 255
: "Guides Concerning the Use of Endorsements and Testimonials in Advertising."