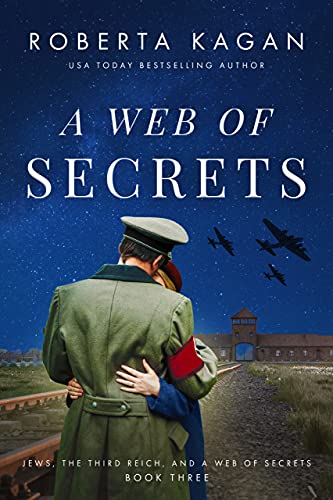 A Web of Secrets brings Roberta Kagan's riveting historical WW2 series: Jews, The Third Reich, and a Web of Secrets to a deservedly climactic end.
As Hitler's murderous reign inches steadily towards a disastrous end, the intricate web of secrets woven by each character begins to unravel.
Oskar, handsome but terrifying, is on the verge of madness. What torments him so?
What dark secrets are buried deep within Kara's loving heart?
Anka's affection for her husband Ludwig is all but gone. Will he turn to the ever-open arms of a secret life?
And...
What about Abram? Will he find a way to keep his vow to God? Will he ever be with his family again?
Fans of The Girls in the Attic, The Tattooist of Auschwitz, and The Venice Sketchbook will be enthralled with this riveting and heartbreaking story of love, betrayal, and ultimate redemption.
About the Book
Review
"I am so happy that I have finished this book. The third volume of this series brings to a close this series. I am so relieved to see a resolution to the series and am happy that the main characters were able to be re-settled away from the war torn Germany. Read to find out where they were resettled. These characters are so alive in my memory and I realize that their experiences are representations of many people.
I enjoyed this trilogy and the way the story was presented. I hope you enjoy it also." – Amazon Review
Other Books in "Jews The Third Reich and a Web of Secrets"
Disclosure of Material Connection: Some of the links in the page above are "affiliate links." This means if you click on the link and purchase the item, I will receive an affiliate commission. I am disclosing this in accordance with the Federal Trade Commission's
16 CFR, Part 255
: "Guides Concerning the Use of Endorsements and Testimonials in Advertising."