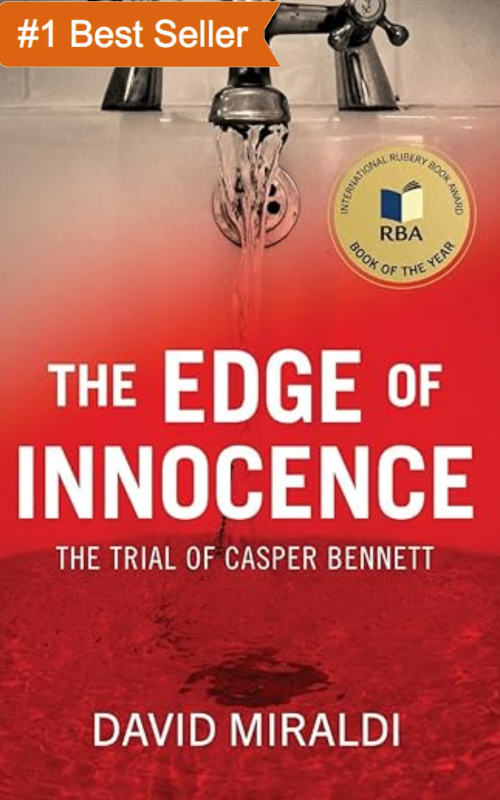 From the Rubery Prize-winning author David Miraldi:
A Chilling Crime That Shocked Lorain, Ohio, and a Defiant Attorney Determined to Unearth the Truth.
1960s Lorain, Ohio: Casper Bennett is accused of the unimaginable—drowning his wife in a scalding bath. Rumors swirl, and whispers pervade every corner of town. But there's one man, untested in the vicious waters of murder trials, willing to wade in and defend him: the author's father.
David Miraldi unveils a riveting tale intertwined with personal history. In a time before DNA, when a man's fate hung precariously on human intuition, can true justice emerge from the fog of doubt?
But this isn't just a courtroom drama. It's a son's journey into his father's legacy, a town's desperate quest for truth, and a chapter of American history where technology was new, but deception was age-old.
"The Edge of Innocence" isn't merely a true crime narrative—it's a masterful exploration of memory, responsibility, and the ever-elusive nature of truth. Amidst shifting memories and contested facts, will you discern the reality lurking in the shadows?
Disclosure of Material Connection: Some of the links in the page above are "affiliate links." This means if you click on the link and purchase the item, I will receive an affiliate commission. I am disclosing this in accordance with the Federal Trade Commission's
16 CFR, Part 255
: "Guides Concerning the Use of Endorsements and Testimonials in Advertising."