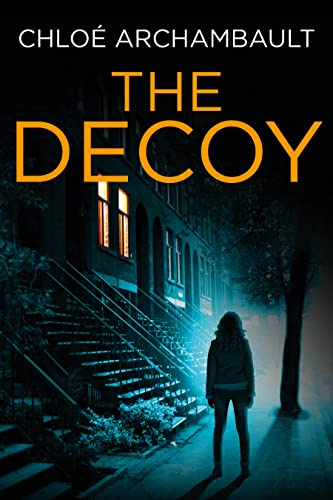 A Riveting Espionage Suspense Thriller
Nina is living a dangerous lie.
On the outside, she's an agreeable graduate student at McGill with doting parents. Behind that prim and proper facade is a capable and restless Russian spy.
An unexpected first mission falls to her. Nina is excited at the chance to prove her worth. But, when it all explodes in her face, a lifetime of training may not be enough to save her.
The line between friends and foes blurs.
Trust is a luxury she cannot afford.
The lie might have slipped out of her control, but the truth is relentless.
It might just crush her. Or it might set her free.
The Decoy is an immersive spy thriller, a front-row seat to the dark world of espionage, deception, and conspiracy.
About the Book
Review
"A great spy thriller set in contemporary Montreal starring an engaging young heroine caught in a web of lies. I thoroughly enjoyed the story, characters and fast-paced rhythm. A true page-turner filled with unexpected twists and turns. I highly recommend this book." – Amazon Reviewer
"The Decoy has much to offer.
Picture perfect descriptions of beloved regions of Montreal and Quebec.
Compelling characters that fuel compassion, anger and anxiety.
An intimate window into the making of a spy and the world of espionage.
A real page turner from an exciting new author." – Amazon Reviewer
"Nina- graduate student and Russian operative. Her objective- to handle a small handoff. But nothing is as it seems.
This is a fantastic debut novel that delves into Russian espionage. There is a nice flow of information and action that makes it read almost as a movie. The plot twists are well written and hidden until just a few pages before the reveal.
Every character has depth, no matter how small of a part they play. And I love that because readers can immerse themselves more in the world of this novel. Every action was well thought out and realistic.
There is a hint of an open-ending, which I think works beautifully. It wrapped up the story while also leaving readers (at least this reader) hoping for a sequel." – Amazon Reviewer
Disclosure of Material Connection: Some of the links in the page above are "affiliate links." This means if you click on the link and purchase the item, I will receive an affiliate commission. I am disclosing this in accordance with the Federal Trade Commission's
16 CFR, Part 255
: "Guides Concerning the Use of Endorsements and Testimonials in Advertising."