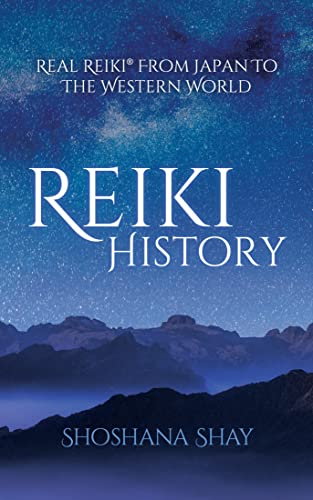 Real Reiki® from Japan to the Western World
Are you curious about Reiki?
Have you heard of Reiki but it just doesn't make sense?
Do you want to learn how an ancient "Japanese" healing technique came to the West?
Have you heard there are different kinds of Reiki and you don't understand why?
Do you enjoy reading about unique aspects of history?
"Reiki" is a Japanese word for an ancient science of energy often used for healing on all levels. Hawayo Takata, a Japanese-American born in 1900 in Hawaii, learned Reiki in Japan and brought it to the Western world.Reiki Historytraces Takata's life and the rising popularity of Reiki. The story continues with Mrs. Takata's successor to the intact science, Dr. Barbara Ray, whose work and dedication made Real Reiki® (known in English as The Radiance Technique®) available throughout the Western world.
If you answered "yes" to any of these questions, Reiki History: Real Reiki® from Japan to the Western World is the book for you. Pulling together many primary, contemporaneous sources, some never before published, this book explores an historical tapestry from the Japanese in Hawaii in the nineteenth century all the way to students learning Real Reiki® worldwide today.
"A fascinating look at Reiki from a different perspective."
"This book is exquisite."
"I meant to go eat dinner and instead kept reading just another page and then another…"
About the Book
Review
"This is an inspiring, fact-based and fascinating history of Real Reiki(r).
If you are curious about "Reiki" and don't know where to start, I highly recommend this book.
It is a clear guide on your journey of exploration into the authentic, transcendental energy science trademarked as Real Reiki(r), as differentiated from the myriad of other forms offered as "Reiki."
I learned so much about Hawayo Takata's background, and her courage in protecting the authentic energy science.
Two of the chapters, "Keep the Reiki Pure" and "Masters and Lineage" are especially moving to me, as I gained greater insight into the depth of how vital it is to keep this transcendental energy science intact and unpolluted.
I have a deeper appreciation of the Integrity and Trust it took for Mrs. Takata to carefully choose her successor, Dr. Barbara Ray.
One of the photos included in the book shows a beaming Mrs. Takata standing next to Dr. Ray. Their smiles and Joy are contagious!
I also appreciate the depth of research that the author, Shoshana Shay has put into this illuminating, historical work.
This book has a treasured place on my bookshelf." – Amazon reviewer
Disclosure of Material Connection: Some of the links in the page above are "affiliate links." This means if you click on the link and purchase the item, I will receive an affiliate commission. I am disclosing this in accordance with the Federal Trade Commission's
16 CFR, Part 255
: "Guides Concerning the Use of Endorsements and Testimonials in Advertising."