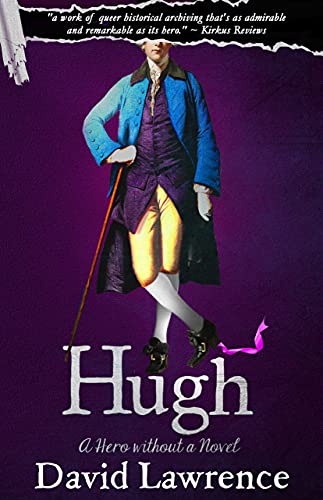 "'Hugh' has the flavour of a queer Tom Jones or a queerer Tristram Shandy. Intriguing, ambitious, and pretty damn delightful. This is a genuinely impressive accomplishment...a unique and exhilarating journey. I think the only way to experience anything quite like it would be to literally read Smollett, and 'Hugh' is, honestly, a lot more fun." – Alexis Hall, author of Boyfriend Material
This romp through 18th century England is like nothing told in the era of Tom Jones – a sparkling, humorous, and poetical coming-of-age 242 years in the making.
From an old family trunk comes a manuscript which never saw the light of day. Its pages tell of the life, times, and blackmail of a young queer aristocrat stepping into 1768 Society…
A time of wig powder and heeled slippers.
Duels and social climbers, when the most popular member of the government is declared an outlaw. Hugh Entwistle enters this world wealthy, witty, and well-connected. Everything to be a success – everything, except that thing stuck to the bottom of his heeled slipper.
Hugh's is a story of secret encounters and significant looks. Hushed separations and sobriquets. But if he dares define Liberty, he might be asked to confront a blackmailer. Asked to confront a father. And before he can make a marriage proposal, follow his heart, and accept one.
Hugh is a rollicking tale of comic angst, and a celebration of the wit, beauty, and absurdities of a glorious age.
Praise for Hugh: A Hero without a Novel:
"...I found it absolutely fascinating…Sui generis, thoroughly interesting, fabulously vivid in place and time, and I'm glad I read it." – K.J. Charles, author of The Magpie Lord
"...a work of queer historical archiving that's as admirable and remarkable as its hero." – Kirkus Reviews
Order Now!
Disclosure of Material Connection: Some of the links in the page above are "affiliate links." This means if you click on the link and purchase the item, I will receive an affiliate commission. I am disclosing this in accordance with the Federal Trade Commission's
16 CFR, Part 255
: "Guides Concerning the Use of Endorsements and Testimonials in Advertising."