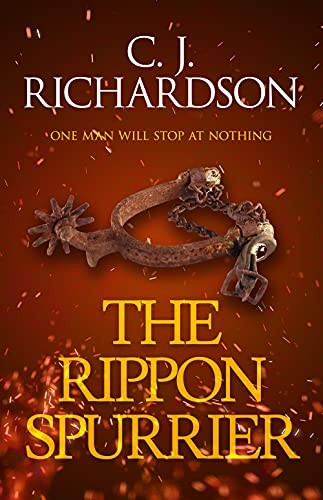 Author C. J. Richardson transports her readers to the febrile and tumultuous world of the aftermath of dissolution in her latest book, The Rippon Spurrier. - Reedsy Discovery
'Marching alongside his master in a holy war would be a dream come true.'
He never expected it to endanger everyone he loved.
Autumn, 1569
Gifted spurrier Robert Grey jumped at the chance to march in a rebellion against the heretic Queen Elizabeth. A committed Catholic, he is ready to lay his life down for his faith.
But now, his beloved wife Catherine and their precious unborn baby are threatened.
As the danger around him grows closer, Robert's lifelong friend turns against him, and the mystery of his father's death haunts his sleepless nights. Robert is determined to uncover the secrets of his past. But one man will stop at nothing to ensure those secrets remain buried.
Distrusted and hunted from all sides, Robert and Catherine must fight with all they have to save their family, friendships, and honor.
But first - they have to stay alive.
If you loved Philippa Gregory's The Lady of the Rivers and Alison Weir's Six Tudor Queens series, you will love this meticulously researched and cleverly written historical novel by C. J. Richardson. Cozy up with this sweeping renaissance historical adventure and travel to the faraway shore of Northeast England!
About the Book
Review
"Richardson tells an exciting and stirring tale with warmth andpassion in a compelling and captivating account of the times. The Rippon Spurrier is unreservedly recommended! "
– Book Viral Historical Fiction
"The Rippon Spurrier is a superior example of the historical fiction genre."
– Reedsy Discovery
"
This is one of those books that you sink right into the story. You're in another time and place right alongside the characters. Even if you know the history, this writer brings it to life – which is a rare and wonderful thing!" – Amazon Reviewer
Disclosure of Material Connection: Some of the links in the page above are "affiliate links." This means if you click on the link and purchase the item, I will receive an affiliate commission. I am disclosing this in accordance with the Federal Trade Commission's
16 CFR, Part 255
: "Guides Concerning the Use of Endorsements and Testimonials in Advertising."