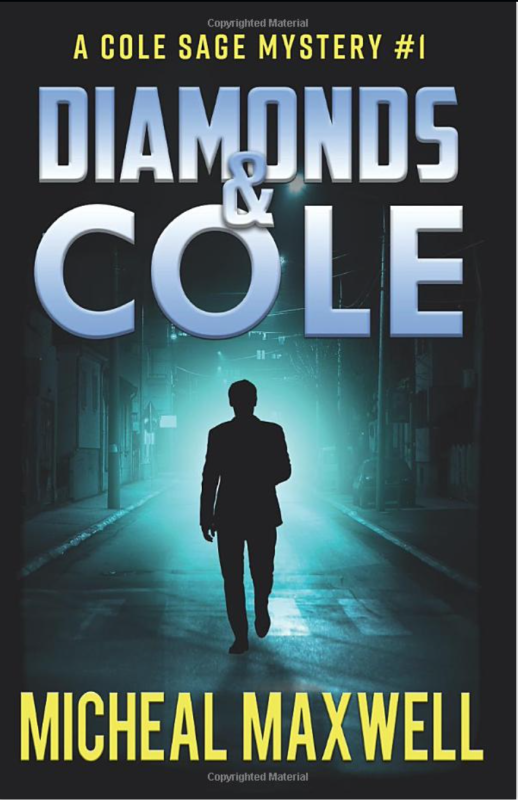 How Far Would You Go For The One That Got Away?
Cole Sage was once a great investigative reporter who has since hit rock bottom. But when a note with one simple word, Ellie, arrives for him, he knows he simply can't ignore this cry for help. Ellie, a romantic blast from the past, has been abandoned in a third-rate nursing home by her husband, a dangerous man heavily involved in crime, bribery and shady diamond deals.
Ellie begs Cole to find and protect her daughter before her husband does. But, the husband is not Cole's only problem. Entering the dangerous underworld can have detrimental effects on your health, and the clock is ticking. Cole does not intend to break his promise to Ellie and must find all the strength he has if he wants to succeed.
If you like LEE CHILD, DAVID BALDACCI, and JOHN SANDFORD, Micheal Maxwell could be your next favorite author.
The Cole Sage series departs from the usual, heavily sexual, profanity-laced norm and gives readers character-driven stories, with twists, turns, page-turning plot lines, and a lot of heart. The series has captured the imagination of readers worldwide.
-----------------------------------------------------------
Readers are loving Diamonds and Cole!
⭐⭐⭐⭐⭐ "I was pleased that someone found a way of writing a really good book without a million f bombs. Getting tired of the gratuitous use of foul language and sex." - G. Towry
⭐⭐⭐⭐⭐ "The realism as the story progressed made me feel as if I were part of it. I felt angry at the injustices, laughed at the humor, and cried at the sad parts. Books don't do that to me often" - Catriona Lovett
⭐⭐⭐⭐⭐"There is action, mystery, twists and turns in this book to keep you entertained. It also touched my heart and brought tears to my eyes - you definitely need to read this book!" - Bookie Carp
⭐⭐⭐⭐⭐ "What a great book! It was very entertaining. I loved the mystery and suspense. It was a great story. I can't wait t read the next one" - S. Houston
⭐⭐⭐⭐⭐ "I found it a wonderful book I simply couldn't put down. Great story but brilliant, believable characters you can really get into. I have not had a book in years that I have read in 24 hours so very well done Micheal." - Mark Grindle
Disclosure of Material Connection: Some of the links in the page above are "affiliate links." This means if you click on the link and purchase the item, I will receive an affiliate commission. I am disclosing this in accordance with the Federal Trade Commission's
16 CFR, Part 255
: "Guides Concerning the Use of Endorsements and Testimonials in Advertising."