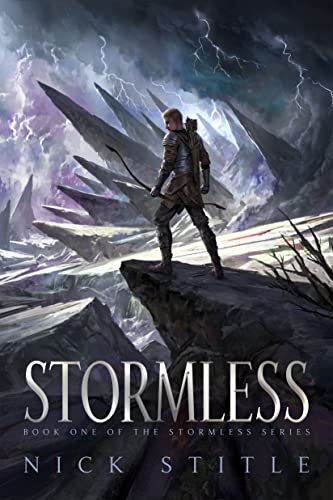 The world you are about to enter is very different from the one you know.
Auris is a place of storms and chaos where seven violent Tempests rule the land, wreaking havoc across the continent. Only the Summoners, bearers of powers not unlike those of the divine Tempests themselves, have the strength to stand against the tyranny of the storms. Society depends upon the enigmatic Summoner-empowering Crystals for survival... Yet when a Summoner bearing powers that should not exist appears on Arvendon's doorstep, the world begins spiraling into chaos.
Castien Varic, a common soldier, finds himself in the throes of a coming war. He embarks on a mission with the most legendary of Auris's Summoners, hoping to discover the truth behind the resurfacing of the Ancient Summoner.
Faelyn Titansworn, heir to the largest of Auris's empires and one of the most powerful Summoners in the world, finds himself lost in his father's shadow. When a conspiracy threatens to destroy all that he knows and loves, Faelyn takes it upon himself to save not just his kingdom, but all of Auris.
Asteros Silverglade bears the powers of a god. Two years in the past, he, along with five others of his Sect, uncover the hidden secrets that the world has tried to erase. Yet they soon learn that the mysteries of the baffling event known as the Vanishing—the war that somehow caused over half of Auris's Summoners to disappear without a trace—run far deeper than they could've ever imagined.
These three heroes walk the threads of fate, together weaving an epic tale of magic, war, love, and loss. Together these individuals will forever change Auris's future. Empires will shatter, Tempests will be Unbound, but destiny will prevail as these heroes face their fated ends.
This is Stormless.
Disclosure of Material Connection: Some of the links in the page above are "affiliate links." This means if you click on the link and purchase the item, I will receive an affiliate commission. I am disclosing this in accordance with the Federal Trade Commission's
16 CFR, Part 255
: "Guides Concerning the Use of Endorsements and Testimonials in Advertising."