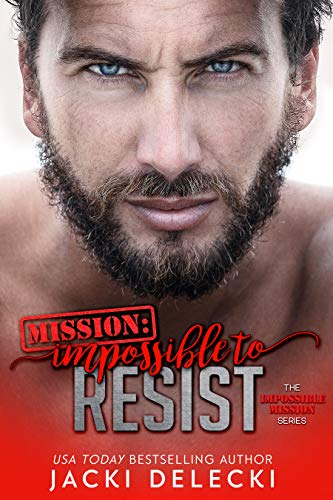 Delta Operator Aiden Foster was more than willing to do a favor for his buddy, but why did it have to be guarding a spoiled debutante?
Delta Operator Aiden Foster was more than willing to do a favor for his buddy, but why did it have to be guarding a spoiled debutante? Aiden has zero interest in babysitting a rich girl for a week, but when he meets the reserved scientist, his opinion does an about-face. When Chinese terrorists kidnap Jordan's sister, it's assumed the girls' billionaire father will be asked for ransom. Instead, the kidnappers want something that could lead to an international disaster. Once Jordan and Aiden discover she's been betrayed by someone close to her, there's no one to trust but each other.
With Daddy's money, life could have been one continuous party for Seattle socialite Jordan Dean. Instead she chose college and a career. She doesn't have time for love or men—not with work and the responsibilities of raising her younger sister. But when her sister is kidnapped and a sexy Special Ops bodyguard is suddenly thrust into her life, Jordan must let go of her tightly controlled world and accept help from the one man who poses a huge risk to her well-guarded heart.
Time is already running out, but when Jordan is taken hostage too, Aiden is faced with near impossible odds. Can his beautiful woman use her brains to keep herself and her sister alive long enough for him find them?
Mission: Impossible to Resist is a standalone romance in USA Today bestselling author Jacki Delecki's heart-racing, pulse-pounding Impossible Mission military romantic suspense series featuring Special Forces operatives and the strong women who love them. Don't miss a single exhilarating adventure into danger and passion.
Mission: Impossible to Resist
Mission: Impossible to Surrender
Mission: Impossible to Love
Mission: Impossible to Forget
Mission: Impossible to Wed
Mission: Impossible to Protect
Each steamy, action-packed standalone romance in the Impossible Mission series delivers a hellaciously stubborn, hot as blazes, alpha male military hero brought to his knees by a fierce, strong, independent woman. Only together can they complete their impossible mission.
"I love the parts in the story that show he is not infallible, that he's a real person who can't succeed at everything all the time. I love that Jordan is intelligent and brave and doesn't melt into a little dependent bunny when she falls in love. Wonderful book. Five stars all the way!"  —Slugpuppy3, Amazon
"Intense, danger packed, drool worthy."  —Cindy H., Amazon
"This story is a thrill ride from beginning to end."  —PaytonPuppy, Amazon
Disclosure of Material Connection: Some of the links in the page above are "affiliate links." This means if you click on the link and purchase the item, I will receive an affiliate commission. I am disclosing this in accordance with the Federal Trade Commission's
16 CFR, Part 255
: "Guides Concerning the Use of Endorsements and Testimonials in Advertising."