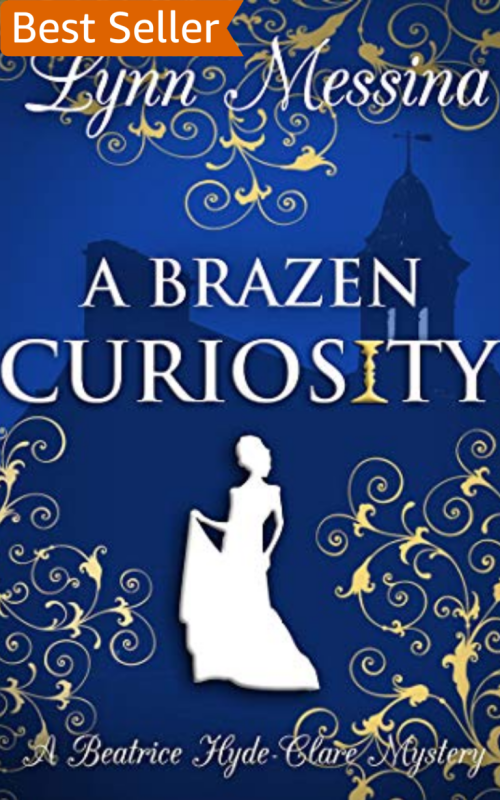 Nothing ruins a lovely house party like bloody murder.
At the decrepit old age of six-and-twenty, Miss Beatrice Hyde-Clare has virtually no hope of landing a husband. An orphan living off her relatives' charity, her job is to sit with her needlework and to keep her thoughts to herself.
When Bea receives an invitation to an elegant country party, she intends to do just that. Not even the presence of the aggravatingly handsome Duke of Kesgrave could lead this young lady to scandal. True, she might wish to pour her bowl of turtle soup on his aristocratic head - however, she would never actually do it. But a lady can fantasize.
But, when she stumbles upon the dead body of another houseguest, all Bea's good intentions fly out the well-appointed window. Although the magistrate declares it a suicide, she knows better.
Time for some very unladylike behavior.
——————————————
Readers are enthralled with A Brazen Curiosity!
"A Brazen Curiosity" is a delightful concoction of cozy mystery, social satire, witty banter, and Regency-style food fights. - Rebekah, Goodreads Reviewer ⭐⭐⭐⭐⭐
Truly this was one of the most charming, laugh-out-loud funny books I've yet read (or listened to)! - Pat, Goodreads Reviewer ⭐⭐⭐⭐⭐
This had everything I enjoy reading in an historical setting....an interesting mystery, a touch of romance and a sprinkle of humor that often caught me off-guard laughing. - Myereading, Goodreads Reviewer ⭐⭐⭐⭐⭐
Well written, witty, tongue-in-cheek, suspenseful, satirical, pastiche-like, characters who could be straight out of Jane Austin... - Maureen, Goodreads Reviewer ⭐⭐⭐⭐⭐
Disclosure of Material Connection: Some of the links in the page above are "affiliate links." This means if you click on the link and purchase the item, I will receive an affiliate commission. I am disclosing this in accordance with the Federal Trade Commission's
16 CFR, Part 255
: "Guides Concerning the Use of Endorsements and Testimonials in Advertising."