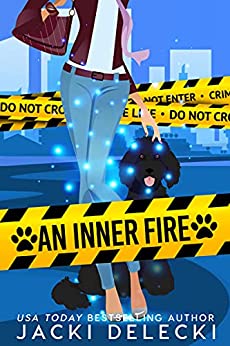 Grayce Walters, animal acupuncturist, harbors a secret. She hides her intuitive gifts from the world until she becomes embroiled in arson on Seattle's waterfront.
An Inner Fire is book 1 in the Grayce Walters contemporary romantic suspense series set in Seattle by USA Today bestselling author Jacki Delecki. Each book is a standalone, steamy, fast-paced romance with a guaranteed happily ever after!
Grayce Walters, animal acupuncturist, harbors a secret. She hides her intuitive gifts from the world until she becomes embroiled in arson on Seattle's waterfront.
As a key crime witness, Grayce must convince the attractive, logical, by-the-numbers fire investigator, Ewan Davis,that the fire she witnessed is part of a larger criminal conspiracy. Grayce embarks upon a mission to gather proof of the dangerous threat. She enlists the help of her cross-dressing best friend, her street-wise assistant, and Davis' poodle, to conduct her own investigation.
As her feelings for Davis shift between white hot passion and cold fear, Grayce must risk exposing her secrets to save Davis' life. Davis must accept things, he can neither see, nor understand to solve the mystery and finally find the love he has stopped believing in.
With nudges from the protective poodle, Grayce and Davis confront shocking betrayal and international crime on the rain soaked streets of Seattle.
THE GRAYCE WALTERS SERIES
Grayce Walters, intuitive animal acupuncturist, finds herself drawn into danger in the name of protecting her animal clients. One extraordinary woman reluctantly battling evil and international intrigue on the streets of Seattle with an unconventional collection of crime-fighting accomplices: Her heart throb, alpha-macho hunk, Fire Investigator Captain Ewan Davis; her best friend James, a gay cross-dressing, karate master who can take bad guys down as long as he doesn't ruin his hair; her office assistant Hollie, a street wise girl gamer; Mitzi, a black standard poodle who's anything but standard; and military men and women willing to risk their lives and love in the battle against terrorism. Read the entire series or enjoy as standalone reads in this best-selling contemporary romantic fiction series from USA Today bestselling author Jacki Delecki.
An Inner Fire
Women Under Fire
Men Under Fire
Marriage Under Fire
A Marine's Christmas Wedding
"An interesting mystery with suspense, good protagonists in need of healing, secondary characters that kept me smiling with their occurrences, adorable and perceptive pets, romance, passion and complex emotions." —Dora la exploradora, Amazon
"I ran through the whole range of emotions while reading this story. Sure, there was the romantic suspense, but I also laughed at the antics of Grayce's friend James.....was touched by the fierce loyalty of Hollie.....cried when Beowulf crossed the rainbow bridge.....loved Mitzi and Napoleon....and had one devil of a time figuring out who the the heck was involved in the fire or just being a horse's rear end! This is definitely an author that I will continue to follow." —Linda Krause, Amazon
"The mystery had enough twists to keep me turning the pages. Action, murder, fiery hot romance, and characters that are so much more than what you see on the surface kept me reading until the reveal." —J.M. Varner, Amazon
Order Now!
Disclosure of Material Connection: Some of the links in the page above are "affiliate links." This means if you click on the link and purchase the item, I will receive an affiliate commission. I am disclosing this in accordance with the Federal Trade Commission's
16 CFR, Part 255
: "Guides Concerning the Use of Endorsements and Testimonials in Advertising."